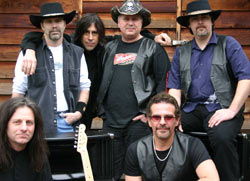 For over twenty-three years, Whiskey Creek has thrilled audiences all over the west coast as America's number one tribute to the legendary southern-rock band Lynyrd Skynyrd. Re-creating the image and the music of the southern rock band that took the world by storm in the "70's, Whiskey Creek not only plays Lynyrd Skynyrd, they personify the group onstage bringing the audience back in time thirty years as they blaze through classics like Sweet Home Alabama, Gimme Three Steps, The Breeze and their phenomenal note-for-note version of Lynyrd Skynyrd's "Live" guitar opus Freebird.

The band is well known in the Pacific Northwest and has built a large and loyal following of fans that continue to pack venues everywhere they play. From the Key Arena in the Seattle Center to the Whitehorse Mountain Classic Rock Festival or the A.B.A.T.E. "Spring Opener" their fans continue to follow them wherever they go! Whiskey Creek is also well known by concert promoters and national acts by opening shows for: Molly Hatchet, Delbert McClinton, Little Feat, Pat Travers, Foghat, Mountain, Grand Funk Railroad, Black Oak Arkansas, Quiet Riot, Dr. John, Savoy Brown, Seattle's own Randy Hansen, Elvin Bishop, Commander Cody, Paul Rodgers, Head East, Janis Joplin's band Big Brother and the Holding Company, Blue Oyster Cult, The Southern Rock All Stars, Iron Butterfly, Steppin Wolf and others.

Where ever this band performs the press and other media rave. Radio station KZOK 102.5 praises and promotes Whiskey Creek frequently. Z100 disc jockey Vic-the-Dude from KZOQ FM praises them with: "I thought I had a good preview of your show after watching your video, but nothing compares to seeing you live! You guys are HOT! I'll definitely be seeing you again." Other rave reviews and articles on Whiskey Creek and their Tribute to Lynyrd Skynyrd by journalists Gene Stout, Claude Flowers and others been published in: The Seattle Times, Seattle P.I., Gig Magazine, Rolling Stone, South County Journal, Tacoma News Tribune and numerous other publications.
SONGLIST

Workin' for MCA
I Know a Little
I Ain't the One
You Got That Right
Saturday Night Special
What's Your Name
Don't Ask Me No Questions
Tuesdays Gone
Whiskey Rock A Roller
Needle & Spoon
Gimme Back My Bullets
That Smell
Simple Man
Down South Jukin'
On the Hunt
"T" for Texas
Curtis Loew
Gimme Three Steps
Red, White & Blue
The Breeze
Sweet Home Alabama
Freebird