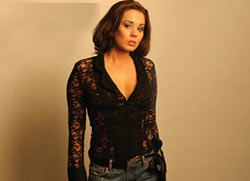 TARA MCCORMICK

Born and raised in the small town of Chehalis, WA, and currently residing in Seattle, Tara McCormick is the face of country music for the Northwest. Over the past two years she and her band The Gangstas of Love have played at numerous regional fairs, rodeos, festivals, amp theaters and theaters. Tara has traveled nationally and has had the opportunity to open for national acts such as Jason Aldean, Keith Anderson, music hall of fame legend Bo Diddley and Ty England. She is currently promoting her music in Nashville and L.A. and pressing hard to further her career as a prominent artist in the country genre.
Tara has made TV appearances on David Letterman, Ryan Seacreast, The Best Damn Sports Show, Entertainment Tonight, two appearances on Evening Magazine, two appearances on KOMO news 4's Connie Thompson's Morning Show, as well as the Miss USA pageant 2004. She has made radio appearances on 95.1 The Rock, 92.9 The Bull, 1460 KUTI and 104.3 KMNT. As well as print and advertisements in numerous news papers.
Having fulfilled her obligations as 2004's Miss Washington USA and placing top 15 at nationals, Tara is dedicating 100% of her energy and resources to her music. Tara has independently recorded one demo single and recently finished work on her first EP containing seven original songs.