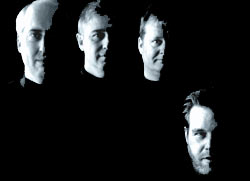 GEORGE
Guitar, Keyboards, Vocals
Even though George took piano and trumpet lessons in grade school, he decided the guitar would be his instrument of choice after watching the Fab-Four on Ed Sullivan in 1964. Over the years George has written and recorded many original compositions, and performed extensively in various groups.

RICK
Bass, Vocals
Very early in life, Rick bought a ten dollar guitar, learned a few chords and put together his first rock and roll group. He's performed in dozens of bands since then, playing various styles and formats, but maintains a special fondness for the 60's, especially The Beatles.

BRYAN
Guitar, Vocals
In the late 60's, Bryan developed his musical roots by learning the saxophone and electric guitar. Over the next 30 years, he played in numerous bands and expanded his musical skills by mastering the fingerpicking techniques of folk and classical guitar.

TROY
Percussion, Vocals
With an impressive resume of accomplishment, Troy has a wealth of experience as a drummer, vocalist, guitarist, published songwriter, and producer. Though he enjoys many styles of music, The Beatles were the greatest single influence in Troy's musical development.
songlist

A Day in the Life
A Hard Day's Night
All I've Got to Do
All My Loving
And I Love Her
Anna
Another Girl
Any T
Eight Days a Week
Every Little Thing
Everybody's Got Something to Hide
Except for Me and My Monkey
Everybody's Trying to Be My Baby
Fixing a Hole
From Me to You
Get Back
Getting Better
Girl
Glass Onion
I Should Have Known Better
I Wanna Be Your Man
I Want to Hold Your Hand
I Want You (She's So Heavy)
I Will
I'll Be Back
I'll Cry Instead
I'll Follow the Sun
I'm a Loser
Revolution
Rock and Roll Music
Roll Over Beethoven
Sgt. Pepper's Lonely Hearts Club Band
Sgt. Pepper's Reprise
She Came in Through the Bathroom Window
She Loves You
She's a Woman
Slow Down
Something
Strawberry Fields Forever
Taxman
Tell Me Why
Wait
We Can Work It Out
What You're Doing
When I Get Home
While My Guitar Gently Weeps
Yesterday
You Can't Do That
You Never Give Me Your Money
You're Gonna Lose That Girl
You've Really Got a Hold on Me