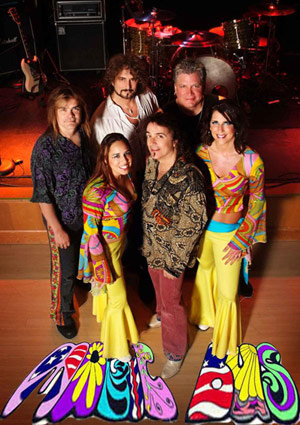 Rarely in history has music played a more important role then in 1969. Woodstock and Haight-Ashbury were both cornerstones of what became a cultural revolution. Who could forget hearing Honky Tonk Woman by The Rolling Stones or Born to Be Wild by Steppenwolf over the radio.

Lets take a trip with Magic Bus. Put on your love beads and bell-bottoms and head over to our first stop, 1965 with Satisfaction by The Rolling Stones. Ease down the road to 1966 with Day Tripper by The Beatles. Then we move into the late 60's with Purple Haze by Jimi Hendrix and Roadhouse Blues by The Doors. Into the 70's we go with Alright Now by Paul Rodgers and his band, Free, China Grove by The Doobie Brothers and a Whole Lotta Love by Led Zeppelin. Still higher we go on a Magic Carpet Ride by Steppenwolf or What I Like About You by The Romantics. Fifteen years of music. Fifteen years of hits and you'll be dancing to them all!

Since 1992, Magic Bus has delivered all of this with the energy and passion of that time. With peace signs, rock posters and flags, go-go cages and, go-go girls, bell bottom-pants and love beads, Magic Bus doesn't just play you the songs, they make you feel them. They deliver you back in time.

Magic Bus was the brainchild of front man / bassist / vocalist / electric violinist LYNN SORENSEN. Lynn, the bassist for Bad Company's Paul Rodgers, and Seattle's Spike and the Impalers, is a veteran of many club, show and original bands. He has played some of the biggest concert venues in the world including England's Royal Albert Hall and the Superdome in Sydney Australia. Combining his high-energy vocal style with his truly entertaining antics he will have you on your feet in no time.

You may have seen lead guitarist / vocalist JOE SHIKANY with Bad Company's Paul Rodgers, or Spike and The Impalers in recent years. Maybe it was with Columbia Records recording artist Bighorn in the late 70's. Or maybe Shyanne, The Allies, Shots, China, Rail, or The Roger Fisher Band in the 70's and 80's. Joe is a very familiar figure in the Northwest music scene. He also can be heard on an album by Arista recording artist Kenny G. Nobody can deliver Eric Clapton, Jimi Hendrix, Pete Townsend or Jimmy Page better than Joe. He is truly a legendary guitarist of the Pacific Northwest. When they write a book about Seattle music, Joe will be in it.

Few drummers in the world can match the intensity, power and showmanship of the amazing JEFF KATHAN. That is why Jeff is currently the world touring drummer for Paul Rodgers' solo band, He'll lay down a rock solid groove one moment, then set the crowd on fire with his amazing drum solos. He's played around the world and is always in demand as a studio drummer. Jeff is also the rhythmic backbone of Seattle's Spike and the Impalers.

Guitarist / keyboardist / vocalist STEVE HANNA is an exceptionally talented performer who has been on the scene for fifteen years. He is the owner-operator of Sea-Trax Recording Studio in Seattle. He owns the PA and lighting systems in most of the area's premier venues. With his combined music and production knowledge he is an invaluable asset to Magic Bus and will guarantee your engagement to be a complete success.

To attain the authentic vibe and fun of the psychedelic sixties, Magic Bus also has two lovely Go-Go Dancers, dressed in colorful sixties clothes, who perform the dances of the time on most shows.

If you want to dance, if you want a show, if you want music performed live with no pre-recorded backing tracks, then let your hair down and step back in time—Take a trip with with MAGIC BUS.
SONGLIST
Takin' Care Of Business -BTO
Them Changes -Buddy Miles
Fortunate Son -Creedance Clearwater
Smoke On The Water -Deep Purple
Layla -Derek And TheDominos
Slow Ride -Foghat
Dirty White Boy -Foreigner
Alright Now -Free
Rock & Roll Part 2 -Gary Glitter
Radar Love -Golden Earing
American Band -Grand Funk
Footstompin' Music -Grand Funk
Some Kinda Wunderful -Grand Funk
In A Goda Da Vida -Iron Butterfly
Somebody To Love -Jefferson Airplane
All Along The Watchtower-Jimi Hendrix
Little Wing -Jimi Hendrix
Purple Haze -Jimi Hendrix
Star Spangled Banner -Jimi Hendrix
Rocky Mountain Way -Joe Walsh
Rock and Roll All Night -Kiss
Kashmir -Led Zeppelin
Over The Hills And Far Away-Led Zeppelin
Dancin' Days Are Here Again -Led Zeppelin
Rock And Roll -Led Zeppelin
Whole Lotta Love -Led Zeppelin
Cinnamon Girl -Neil Young
Spirit In The Sky -Norman Greenbaum
We Will Rock You -Queen
Roxanne -The Police
Message In A Bottle -The Police
Whiter Shade Of Pale -Procol Harum
Hot Legs -Rod Stewart
Hony Tonk Woman -Rolling Stones
Jumpin' Jack Flash -Rolling Stones
Paint It Black -Rolling Stones
Satisfaction -Rolling Stones
Gimme Some Luvin -Spencer Davis Group
Born To Be Wild -Steppenwolf
Magic Carpet Ride -Steppenwolf
Green Eyed Lady -Sugarloaf
Bang-A-Gong -T-Rex
Back In The USSR -The Beatles
Day Tripper -The Beatles
Revolution -The Beatles
Twist And Shout -The Beatles
China Grove -The Dooby Brothers
Break On Through -The Doors
LA Women -The Doors
Light My Fire -The Doors
Love Me Two Times -The Doors
Roadhouse Blues -The Monkeys
What I Like About You -The Romantics
Wild Thing -The Troggs
Baba 'O Reily -The Who
My Generation -The Who
Pinball Wizard -The Who
Won't Get Fooled Again -The Who
Gloria -Them
Boys Are Back In Town -Thin Lizzy
One -Three Dog Night
Stealin' -Uhria Heep
You Really Got Me -The Kinks/Van Halen
I'm A Man -Yardbirds
La Grange -ZZ Top
Tush -ZZ Top
Brick House -Disco
Roller Coaster -Disco
Play that Funky Music -Disco

And More, Requests Are Welcome Too!