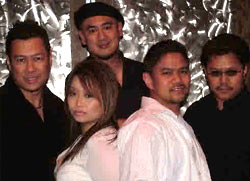 Groove Edition grooves with the sultry and sexy Dara on vocals. Originally from San Francisco, California, Dara has performed w/ various bands/artists in Seattle since 1993. She sings Pop, Top 40, Contemporary Jazz and R&B, with high energy, drawing the crowd into the dance floor. She has performed at The Muckleshoot and Tulalip Casinos, Benaroya Hall, Jazz Alley, Seattle Center, Seward Park Amphitheater and has opened for various International artists touring the US. She will leave you in awe with her powerful and unique voice.
Guitar virtuoso and composer Angelo Pizarro will electrify you on guitar. Angelo loves to play all styles of music and can hang with the best. He has performed for audiences in Washington, Oregon and California. Seeing Angelo play, you'll soon find out why he won Guitar Center's Guitarmageddon for 2004 and 2005. Truly a treat to watch in action, he has performed all over Seattle including The Muckleshoot and Tulalip Casino. Groove Edition has one of the best keyboard man on board to come around Seattle.
Ronnie Esteban makes his mark in Seattle originally from Honolulu, Hawaii. 2002 Grammy nominated producer for Best Reggae Album, Ronnie's productions have also been featured on '50 First Dates' and 'Soul Food' soundtracks and several 'Baywatch Hawaii' episodes. Enjoys playing R&B, funk, classic 70's/80's/90's and even electronica such as techno/industrial and trance. Solid on keyboards, Ronnie has opened for The Stylistics, NKOTB, Christina Aguilera and KC & Jojo. Less than 2 yrs in Seattle and Ronnie has already made his mark at various Seattle clubs, concerts and The Muckleshoot and Tulalip Casinos.
Slammin' the Bass is funky, no holds-bar Mike Guerzon. Mike is a veteran bass player, playing over 30 years in Seattle. Mike has performed at major venues, shows, casinos and clubs. This awesome Bass player enjoys playing different types of music. With all his years of experience and background in the music scene, you'll see why this gifted musician is one of the most sought after Bass player in Seattle.
Holding the beat for Groove Edition is the talented Ben Pizarro on drums. Ben loves to play rock, jazz, hip-hop, Latin, fusion and has been playing for more than 15 years. Ben slams on the drums and percussions with full energy, laying down the beats in a solid pocket! All together, you got one solid high energy band that will get you up and out of your seats dancin' to Groove EditioN!
SONGLIST
SONGLIST
LOVERGIRL - Teena Marie
MacARTHUR - Donna Summer
I FEEL FOR YOU - Chaka Khan
EMOTIONS - Mariah Carey
IN MY H OUSE - Mary Jane Girls
WHEN WILL I SEE YOU AGAIN - Three Degrees
RESPECT - Aretha Franklin
SWAY - PusscyCat Dolls
GIRLFRIEND - Pebbles
I WISH - Stevie Wonder
SUPERSTITION - Stevie Wonder
CONTROL - Janet Jackson
BECAUSE OF YOU - Cover Girls
WHAT HAVE YOU DONE FORE ME LATELEY - Janet Jackson