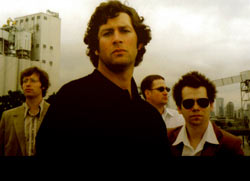 PEACE FROG & THE AMERICAN NIGHT BAND
The experience of a live DOORS concert!

Peace Frog & The American Night Band, surrounds the audience with the sound, theatrics, myth, and experience that were The Doors! The music is performed with an authentic live feel, using original vintage instruments to deliver the unmistakable sound that was a live Doors performance.

The show's attention to detail is striking and completely emerges the audience in the Doors experience. Every sense is employed. Authentic costumes and instruments set the stage for the journey. One cannot help but to imagine they've stepped into a legendary performance at San Francisco's Matrix Club or L.A.'s Whiskey A-Go-Go.

Based out of Venice, California, lead singer Tony Fernandez lives out every move of Jim Morrison on stage and delivers a powerful recreation of true likeness in presence, vocals, mannerisms and spirit. With intoxicating renditions of "Hello, I Love You", "Light My Fire", "L.A. Woman", "The End" and many of the Doors classic songs, Peace Frog has the crowd entranced!
SONGLIST

The Doors (1967)

Break On Through
Soul Kitchen
The Crystal Ship
Twentieth Century Fox
Alabama Song
Light My Fire
Back Door Man
I Looked At You
Take It As It Comes
The End

Strange Days (1967)

Strange Days
You're Lost Little Girl
Love Me Two Times
Moonlight Drive
People Are Strange
When The Music's Over

Waiting For The Sun (1968)

Hello, I Love You
Love Street
The Unknown Soldier
Spanish Caravan
Five To One

The Soft Parade (1969)

Touch MeWild Child

Morrison Hotel (1970)

Roadhouse Blues
You Make Me Real
Waiting For The Sun
Peace Frog
The Spy