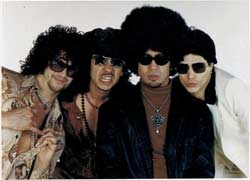 The World Famous Afrodisiacs

Not just a dance band, but an energetic, high energy show exploding with funky costumes, style and attitude that leaves audiences astonished and overwhelmed!

The "Afros" are far from the typical dance band. Their electrifying show propels you into the groove, complete with the style, costumes and dance moves of the '70s. They add a unique dimension to their performance, demonstrating the common ties between '70s Disco and today's popular music.

Along with their brothers in Los Angeles, the Boogie Knights, their professional, energetic, humorous and magnetic style has defined them as America's #1 Disco Tribute.

They have shared the stage with artists such as Lionel Ritchie, KC and the Sunshine Band, Kool and the Gang and have appeared on national shows such as Jenny Jones and Mancow.

When you choose The Afrodisiacs you set the stage for your event to be one of the most memorable your guests will ever attend. They are available for all types of parties and private events, from birthdays and weddings to large corporate events. Always count on the "Afros" to deliver the goods for any special event that requires professional, high-impact entertainment!
SONGLIST

· BOOGIE NIGHTS - HEATWAVE
· GROOVELINE - HEATWAVE
· SUPER FREAK - RICK JAMES
· GIVE IT TO ME BABY - RICK JAMES
· LE FREAK - CHIC
· FUNKY MUSIC MEDLEY - WILD CHERRY
· CELEBRATION - KOOL AND THE GANG
· LADIES NIGHT - KOOL AND THE GANG
· THAT'S THE WAY - K.C. AND THE SUNSHINE BAND
· GET DOWN TONIGHT - K.C. AND THE SUNSHINE BAND
· SHAKE YOUR BOOTY - K.C. AND THE SUNSHINE BAND
· I'M YOUR BOOGIE MAN - K.C. AND THE SUNSHINE BAND
· BOOGIE SHOES - K.C. AND THE SUNSHINE BAND
· YOU SHOULD BE DANCING - THE BEE GEES
· HOW DEEP IS YOUR LOVE - THE BEE GEES
· EASY - THE COMMODORES
· BRICK HOUSE - THE COMMODORES
· Y.M.C.A. - THE VILLAGE PEOPLE
· WE ARE FAMILY - SISTER SLEDGE
· DISCO INFERNO - THE TRAMMPS
· GOT TO BE REAL - CHERYL LYNN
· NIGHT FEVER - THE BEE GEES
· BOOGIE OOGIE OOGIE - A TASTE OF HONEY
· I WILL SURVIVE - GLORIA GAYNOR
· FUNKYTOWN - LIPPS INC
· CAR WASH - ROSE ROYCE
· SEPTEMBER - EARTH WIND AND FIRE
· LETS GROOVE - EARTH WIND AND FIRE
· DONT STOP TILL YOU GET ENOUGH - MICHAEL JACKSON
· LOVE ROLLER COASTER - THE OHIO PLAYERS
· BOOGIE FEVER - THE SYLVERS
· THE HUSTLE - VAN MCCOY
· KUNG FU FIGHTING - CARL DOUGLAS
· BAD GIRLS - DONNA SUMMER
· DAZZ - BRICK