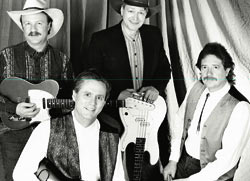 The Randy Oxford Band showcases a sophisticated mix of world-class musicianship, audience-friendly showmanship, and original arrangements from"Memphis to Motown," that are smart, danceable, and full of life. The band consists of 6 veteran musicians, each bringing a unique background and talent to the band. Randy Oxford - 3-time "Blues Performer of the Year" and notorious wild man- plays the trombone as a lead instrument, inventing a path through the chord progressions, sometimes mimicing the guitars around him, sometimes taking them with him on one of his wild rides. He was recently hired by "The Legendary Blues Cruise" as a jam host and performer.

The Randy Oxford Band is blessed with four outstanding vocalists, each bringing his/her own special style to make this band's repertoire as varied and interesting as the members themselves. Lead singer Heather Rayburn is the featured vocalist - young, lively and in full command of an incredible voice that is stunning in its power and range. Dominique Stone, whose bass style adds an element of funk to the rhythm section, has a smooth, satiny voice and a playful nature that often results in spontaneous dance moves and stage antics that infect the rest of the band. Riky Hudson, on drums, adds vocals that generally rest in the baritone range, although he provides the high end of the harmonies, as well. He specializes in drawing the audience into his songs, i.e. "All right, boys and girls - it's sing-along time!" Rafael Tranquilino, the band's newest member, hails from Mexico City and sings "straight ahead" blues - in Spanish! He's rapidly gaining a reputation as one of the hottest young guitar slingers around.

Steve Blood, the band's veteran guitarist, is known for his thoughtful, intricate solos and precise, yet soulful style. The two guitarists back each other during solos and, with the addition of Randy's killer trombone, help give the band it's characteristic big, rich sound. In addition, the interplay between the performers - both musically and visually - provides the audience with something entertaining to watch, as well as to hear.
songlist

Safety In Numbers - Joan Osborne
Honey - Original by Dominique Stone
Bring It On Home- Aaron Neville
Steppin' In, Steppin' Out - Denise La Salle
Evil Gal Blues - Leonard Feather/Aretha Franklin
Heart is Mended - Charles Brown
Bumblebee - Memphis Minnie
Think - James Brown
Sugar in My Bowl - C. Williams/Bessie Smith
Bow Wow - Junior Guitar Watson
What's Goin' On? - Obie Benson/Marvin Gaye
Smiling Faces Sometimes - The Undisputed Truth
Dirty, Low Down and Bad - Keb Mo
Go On- Delbert McClinton/Jerry Williams
The Stumble - Freddie King
Blues Walk - Clifford Brown
Motown Medley
Chain, Chain, Chain - Arentha Franklin
Everyday People - Sly Stone
Cool, Kind of Poppa - Mildred Anderson/Dinah Washington
Man-sized Job -Ruth Brown AND MORE!