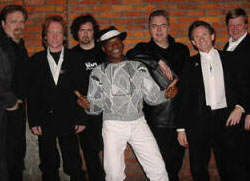 CHARLES WHITE BAND

Charles has a lot of energy and has worked hard to get where he is now. Charles established himself as a blues artist in Texas, singing in local Houston clubs. He was working for Don Robey - the Duke/Peacock Records, in Houston, which led to his performance as opening act on a national tour with Bobby (Blue) Bland. Charles wanted a change of pace from Texas, so he decided to give the Northwest a chance to experience his blues.

Charles says he enjoys doing Texas rhythm and blues, an up-tempo, dance music, complete with searing guitar and screaming saxes. When he began his search to form a group of motivated, professional musicians, Charles spent long hours in hot blues clubs, singing with local artists, searching for the right combination of talent.

Charles has played in parts of Oklahoma, Kansas, California, as well as Texas. But, Charles says Seattle gives him a powerful inspiration to keep Singing the Blues.
SONGLIST